The 10 Stages of Indian Wedding Planning
Indian wedding planning may sound like an ultra glamorous ordeal, but sorry to burst the bubble, it's a lot of hard work. From the minute he puts a "ring on it" to the point you say yes to the dress and then finally walk down the aisle, our guess is that your brain is ready to explode.
It's easy to get caught up in the never ending cycle of Indian wedding planning. So, we thought we would lighten up your day, by illustrating all the emotions you will feel via these relatable Bollywood rom-com giphy's.
Let's take you through the 10 stages of Indian wedding planning.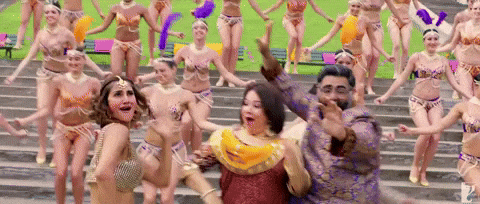 You are now officially the centre of attention in your family and friend circle. That kid who attracts all the attention. Everything is perfect and despite all the questions, all that matters to you is that shiny new engagement ring and your "fiancé."
But congratulatory messages are coming from all corners of the world and the questions are rolling in, yet you're still soaking it all in.
Things just got real. There's no rush to do anything really. It's a time to embrace this moment and spend some time just celebrating with your partner in crime!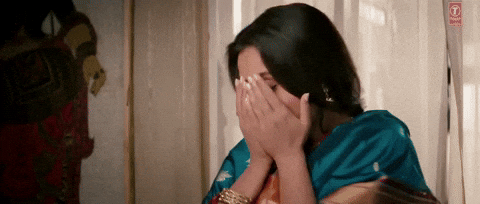 Wow, Indian wedding planning is so exciting! I'm going to have the biggest, most beautiful and super duper extravagant party. I'll wear Manish Malhotra for my engagement party, Abu Jani Sandeep Khosla for the sangeet and oh yeah, of course Sabyasachi for my wedding day. Like you know Priyanka Chopra's wedding lehenga…
NOT!
It's tough to bring up the "B word" in conversation. However, you will be surprised. Setting a realistic and practical budget is possible and could make Indian wedding planning a lot easier than it sounds.
Work within your means and set a limit for outfits, décor, venue, photography and so on. The first financial step is to work out the total amount you have to play with. This will guarantee that your wedding planning runs smoothly from this point onwards.
There's plenty of time right?
Time is of the essence as they say and before you know it, it's slowly slipping away and you have no idea what you're doing!
Let's not ever dream of that day though because we're going to help you get organized.
Allocate some time every week and divide and conquer between you and your partner. It is the worst feeling when you run out of time.
If you're seriously in a hurry though, contact us anytime. We would love to help you out.
Holy crap, it's happening!
There's no denying that this particular thought is running though your mind, almost every single day. Anxiety levels are increasing and no matter how organized you are, you're just not able to chill.
Wedding anxiety is a thing, but don't let it consume you.
It's a new stage of your life that you are entering. Stay focused, calm and positive about all aspects of your wedding planning.
Quite possibly one of the most difficult tasks on your list is coming up with the guest list.
You have hundreds of aunts and uncles, so prepare a list A and a list B. Guarantee that there will be multiple revisions over the course of 6 months.
It's time to cull and invite the people only YOU want to see at your wedding. No need to cry about it. Imagine the amount of money you and your parents will save (hint hint)!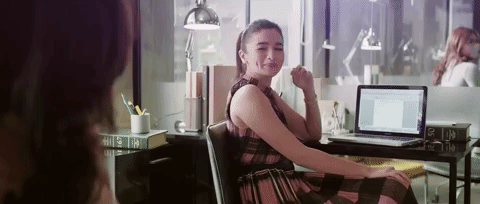 How do you find the one? No, not him or her! For us, it's not just "the one." We have multiple functions, which equates to multiple outfits.
Now we all now how stressful it is to shop for our wedding outfits. Some of us will even make the long journey across to India and most of the time we will have absolutely no idea where we're headed.
Bridal shopping in India though is impressive. There are an endless number of shopping complexes and boutiques that can cater not just to you, but your entire wedding party. Be prepared for haggling though.
Before you take the plunge, assess your style and do your homework. Build a picture of what you want and not what you "have to wear." You can simply make a start by heading over to Pinterest.
Oh, and don't forget the jewellery too.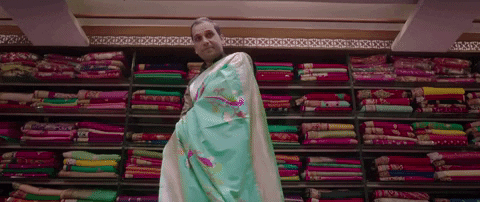 Get your mind out of the gutter girl!
There's so much going on and you're starting to panic as your big day inches closer. Some "experts" will suggest the crash diets and hardcore fitness regimes and you somehow fall for it.
Now is the time to start paying attention to your physical, mental and emotional health though. Do not start a fad diet. Rather, focus on eating right, workout 3-4 times a week and get enough sleep to look your best.
How about hiring a trainer who will give you the perfect combination of workouts and healthy eating options?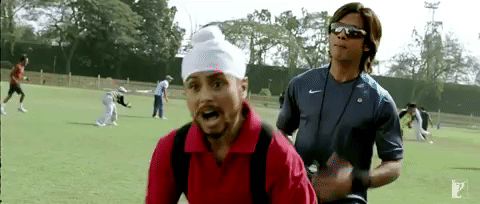 You have a wedding to plan and the vision is oh so real. You start tell your besties that it's going to be the best wedding they have ever attended. Everything is going to look so pretty.
Let's not get too carried away though. There's having a vision, but then you need to turn it into a reality.
Gather inspiration from the internet and more importantly determine your own style. It's all fair and well to rip off ideas, but remember that not all wedding stylists out there will want to do so. To avoid the trouble, create a vision board that highlights key elements that are going to make your own wedding day sparkle. The things that reflect you.
At this stage you are seriously trying so hard to have it all in order, yet the perfectionist in you is taking over.
The time has come to let it go. Delegate any last minute tasks to anyone in your wedding party. Bridesmaids, groomsmen, Mum or Dad, siblings or aunties. Surely, somebody is around to help you out.
Yes, all that hard work over the past year has paid off. You and your partner made it. The biggest wedding weekend celebration is about to take place. It has finally come down to this.
There is no more second guessing because you are going to enjoy each and every moment you can. Woohoo!
Are you feeling any of these emotions right now? Let us know in the comments below or contact us if you would like any assistance with your upcoming wedding.
Poonam is the founder and director of The Maharani Diaries. She has a passion for South Asian fashion and weddings. Drinking coffee is one of her favourite pastimes and she also enjoys donating her time for charity. You'll often find her volunteering on the side for various community events.